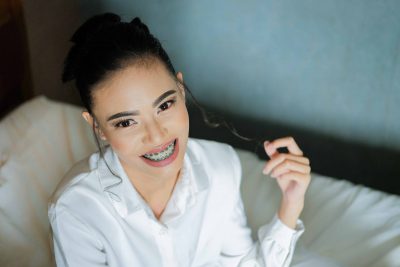 15 Apr

Tulsa Adolescent Dentistry | Children's Dental Health Center
Tulsa Adolescent Dentistry at Children's Dental Health Center
The teen years can be tricky to navigate as a parent. You want to ensure your child still receives the quality dental care they need. However, you must also teach them habits to maintain on their own as they transition into adult life. At Children's Dental Health Center, we consider it a privilege to partner with you as you instill these dental habits in your teens. We provide the highest quality care when it comes to Tulsa adolescent dentistry.
There are several myths surrounding Tulsa adolescent dentistry. In this article, we will shed light on some of the most commonly heard myths that come from the teens that visit our office. We hope this information equips you to navigate dental care concerns with your teenagers.
Myth #1: Adults Don't Get Cavities
You probably have a smile on your face as you read that sentence because you know that is simply not true. Many teens believe that as they age, they no longer have a need for regular dental cleanings. This is simply not the case! 
Proper oral hygiene is crucial at any age. It is true that children suffer from more cavities than adults. However, this common oral health concern does not simply disappear once you turn 15. Your teen needs to understand the importance of Tulsa adolescent dentistry when it comes to preventing cavities and maintaining a healthy, happy smile.
Myth #2: Tulsa Adolescent Dentistry is Not "Cool"
Although we know that Tulsa adolescent dentistry is incredibly important, many teens believe that it's "not cool" to go to the dentist. As silly as that sounds to us, you may be hearing that very sentence from your teen! 
When we hear this common myth, we like to remind our adolescent patients that having a beautiful smile is always cool. It may be inconvenient to make time for their bi-annual dental exam and cleaning. However, you must teach your teen the importance of this appointment. NOt only will a Tulsa adolescent dentist reduce the risk of gum and tooth disease, but they will also help your teen achieve a bright, healthy smile.
 A healthy smile is a great boost to self-esteem which is something most teens could use more of! 
Myth #3: Only Old People Get Gum Disease
Just like the myth about kids getting cavities, many teens believe that they are not at risk for developing gum disease. It seems as if teenagers everywhere believe they are invincible. Regardless of their age, everyone is at risk for developing gum disease. 
This condition can range from mildly uncomfortable to something that can cause serious health issues if not addressed in a timely manner. Routine dental exams and proper oral hygiene are the best way to prevent gum disease.
Myth #4: Dentists Only Fix Visible Problems
Many common problems with both the teeth and gums remain invisible to the untrained eyes until they are rather advanced. Oral health concerns such as cavities, tooth decay, and gum disease are all very easy to treat when caught early on. The best way to ensure that your teen's teeth are in the best condition possible is to keep their routine Tulsa adolescent dentistry appointments.
Myth #5: Teeth Always Look Bad As You Get Older
Your teen may be under the false impression that their teeth are destined to look bad as they age. It is true that your teeth require more attention and care in later years. However, they are not destined to have a dull appearance. Instead of resorting to drug store whitening kits, encourage your teen to schedule their bi-annual Tulsa adolescent dentistry appointment. 
Our team is passionate about partnering with you to equip your teen for a lifetime of optimal oral health through healthy dental habits. 
Myth #6: It's Best to Disregard Tooth Pain
We have all lived through our teenage years and understand the inconvenience of tooth pain or other oral health conditions. However, you must educate your child on the dangers of disregarding tooth pain or discomfort. Whether due to an unwillingness to schedule an appointment or a fear of the outcome, many teenagers choose to avoid dental care when they are experiencing tooth pain.
At Children's Dental Health Center, we understand the importance of addressing tooth pain and discomfort in the early stages so as to avoid a more serious issue down the road.
Myth #7: I Brush My Teeth, I Don't Need Tulsa Adolescent Dentistry
While it is important to encourage your child to form healthy habits surrounding tooth brushing, flossing, and other oral care tasks, they must realize that this is simply not enough to maintain a healthy smile. 
Bi-annual Tulsa adolescent dentistry appointments are necessary to diagnose oral health concerns, thoroughly clean each tooth, and prevent infection from spreading. Take the time to educate your teen on the importance of a well-rounded oral health care strategy. It is important that this includes twice-yearly visits to their adolescent dentistry provider.
Myth #8: Tulsa Adolescent Dentistry is For Kids
We understand that your child is changing as they grow older. While we thoroughly enjoy catering to our younger patients, we realize that our adolescent patients desire a more grown-up experience. It is important to reassure your teen that, at Children's Dental Health Center, we provide dental care services for babies to young adults.
We will always treat your child with respect. Our team is committed to offering dental care services that are suited to their age and oral healthcare needs. We believe this is the best way to make Tulsa adolescent dentistry comfortable and welcoming for your teenager.
Your teen may be hesitant to visit the dentist. However, it is an important habit to instill as they move towards their adult years. By busting these common Tulsa adolescent dentistry myths, we hope to make the experience easier for everyone. Children's Dental Health Center would love to become your home for dental care for your children whether they are toddlers or teens. You can find more information by calling the number listed above or contacting our Tulsa adolescent dentistry team here.